Stabilizer Deflection Tester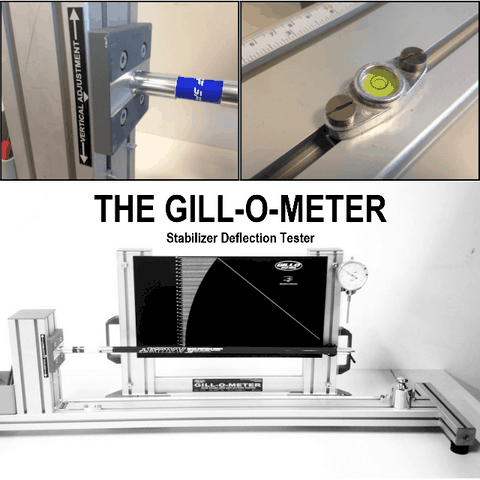 The GILL-O-METER Stabilizer Deflection Tester is a bench top unit that allows a variety of tests to be undertaken to investigate
Archery Bow Stabilizations Rods under bending loading within their elastic limits.
The aim of this Test Equipment is to create a mechanical and mathematical reference standard for rod stabilizer for the sport archery bow and to analyze its deflection, rigidity and stiffness.
Test methods are based on Michele and Vittorio Frangilli, authors "The Heretic Archer" thesis, and the archery best-known theory of arrow spine testing.
An extruded aluminum base frame carries a solid vertical support square clamp to carry the test specimen at the maximum rigidity.
The support square clamp has the AMO standard 5/16" – 24 threaded hole to provide an adequate margin of strength needed to cope with the greater stress loads imposed by heavier and longer stabilizers.
Profiled grooves within the base frame, fasteners and quick release handles ensure quick and easy adjustment of the bench to allow the user to test different types of rods.
A pivoting cam with indicator needle is fixed in front of the Main Display Scale Protractor with ruler to show the deflection.
The bench measure the bending specimen deflection at the end of the rod, a dial gauge can be fixed onto a movable stand and can be positioned anywhere at the end of the beam span.
At the end of the stabilization specimens the vertical loading is applied using a load hanger and calibrated weight of 1Kg taken as a Standard reference weight for test comparisons.
A set of tools and accessories are supplied and a calibrated weight of 1 Kg with hanger is provided to create specimen loading.